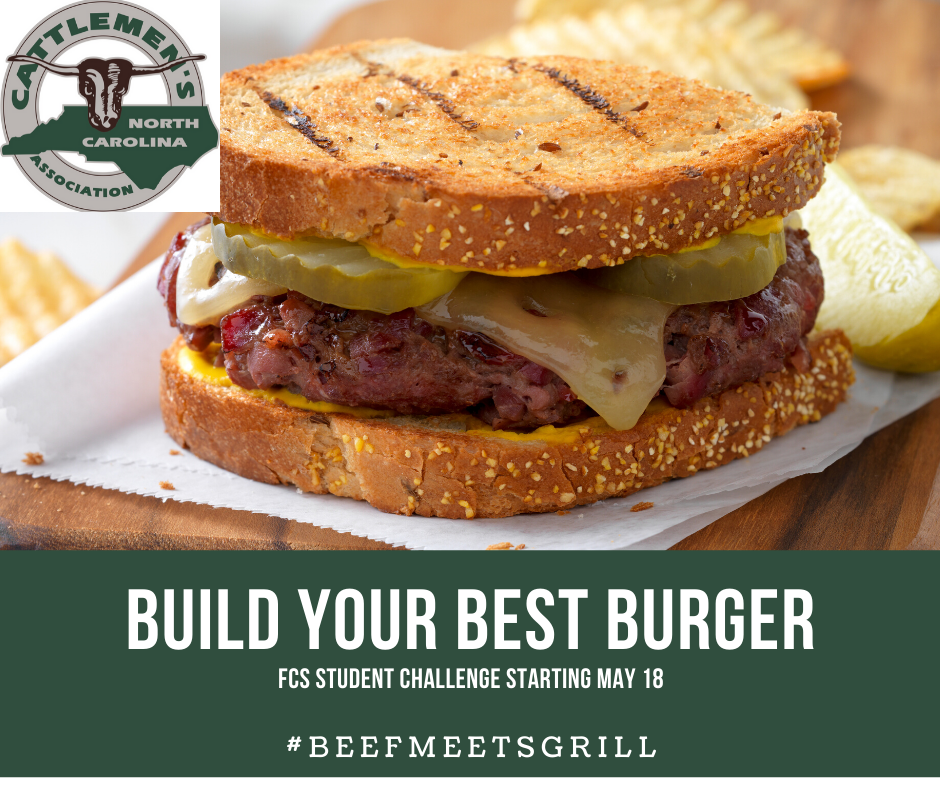 Beef Overview

The North Carolina Cattlemen's Association represents cattle farmers who raise cattle for beef. We have over ten thousand cattle farmers in all one hundred counties across our state. Cattle farmers have an average of fifteen cows, but some farms have many more. We are proud to raise an amazing product that contains over ten essential vitamins and minerals including protein, iron, and zinc.

Cattle farmers take pride in caring for their animals. Many are Beef Quality Assurance Certified, meaning that they have voluntarily participated in training to learn best practices for moving cattle, administering vaccinations, record keeping, and more. Temple Grandin, a world-renowned animal scientist, designed most of the cattle handling facilities we use today. Her perspective and designs keep animals calm and comfortable, making everyone safe.

Cattle receive a balanced diet based on grass and include minerals to provide vitamins needed in the diet for different stages of their life. Feeds are made with grains such as soybeans, corn, distiller's grains, wheat, and may use cottonseed in different times of the year. Grass, or forage, is a focus for the farmer and depends on soil health. Farmers take great care to make sure the soil is in the most ideal condition to grow forages that feed cattle. They regularly take soil samples that are evaluated to see what may be lacking and fertilize their pastures to reach optimal soil health.

Beef is a nutrient dense food. This means that there are several nutrients in a small calorie package. If there was a protein contest, beef would surely be crowned the king! Among the powerful package of 10 essential vitamins beef is known for, protein may be one of the most notable. In fact, one 3 oz cooked serving of beef provides 50% of your Daily Value (25 grams) of this important nutrient—making it an excellent source!

THE BEEF CHALLENGE: BUILD YOUR BEST BURGER

1. Watch the virtual presentation on Monday, May 18, 2020 at 1:00pm on the @EatbeefNC Instagram page. The recorded video will be available on the North Carolina Cattlemen's website www.nccattle.com

2. Your challenge is to build your best burger. May is Beef Month in North Carolina and hamburgers are one of the most popular foods to grill. Memorial Day weekend is the most popular grilling weekend. Ground beef is versatile and convenient. You can be creative with seasonings, toppings, buns, and more. Show us how you prepare your burger and the recipe by posting an Instagram video or picture series post. For inspiration, visit https://www.beefitswhatsfordinner.com/search?Qal=burgers&Take=10&SortItem=

3. Create your recipe and show us with a video post by Sunday, May 24, 2020 Tag us, @eatbeefnc and #beefmeetsgrill #GottobeNC and #CTEforNC. Tag @NCFCSed @CTEforNC and your school. If you don't have social media, please send to your teacher and they will post on your behalf.
4. Join us on Friday, May 22 at 10:00am at @EatbeefNC for an Instagram live Ask the Cattle Farmer. This is your chance to learn how beef is produced from the farmer directly and ask questions.

Sponsored by: NC Department of Agriculture, NC Department of Public Instruction – Family and Consumer Sciences

Build Your Best Burger

Welcome students! This is the beef challenge informational video. We look forward to your Build Your Best Burger entries!